Welcome to my website and blog!
I'm pleased to announce the upcoming release of a new book, Tangled Roots, which will soon be available for purchase on Amazon or from this website on the Buy the Book page, where you can still get my first book, One Summer in Arkansas. More information about both books can be found by clicking on the Books tab above.
I hope you'll visit my blog page for posts about writing and book publication, as well as topics ranging from public policy to poetry, alongside boxed instructions on subjects like how to run a cousin camp for the grandchildren or organize a duplicate bridge group.
Bloggers interested in doing a book review or a giveaway contest should contact me at the email address below.
Thanks for your interest and do come again.
Contact me at marciakempsterling@sonic.net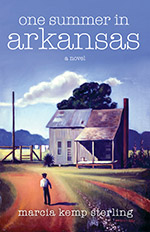 One Summer in Arkansas
A black youth has drowned at a city park and Lee Addison, assigned to the legal defense team, is caught up in the mystery of the boy's death. But, torn between two cultures and two women, he is unprepared when tragedy strikes his own family.