Welcome to my website and blog!
Thanks for stopping by.
You'll find information here about my first novel One Summer in Arkansas, along with excerpts, book group discussion topics and FAQs.
But this site isn't just about the book. There are postings on a variety of subjects from public policy to poetry, from how to run a cousin camp for the grandchildren to how to organize a duplicate bridge group or a Robert Burns Dinner.
Please visit my blog and let me know what you think about this crazy world we live in.
Bloggers interested in doing a review of the book or a giveaway contest should contact me at the address below.
Come back again.
Contact me at marciakempsterling@sonic.net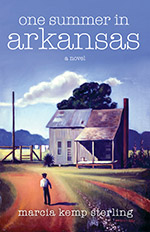 One Summer in Arkansas
A black youth has drowned at a city park and Lee Addison, assigned to the legal defense team, is caught up in the mystery of the boy's death. But, torn between two cultures and two women, he is unprepared when tragedy strikes his own family.